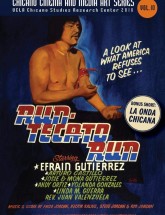 Chicano Cinema and Media Art Series
This series showcases important and rare Chicano films and videos. Included in the collection are feature-length films and artists' videos. Many of these works have been restored and the originals archived in the CSRC Library's special collections.
The CSRC is also the distributor for SubCine, the premier online resource for independent Latino film and video for exhibition and educational use. To view the entire SubCine catalog, visit SubCine.com.
View All Titles