CSRC Newsletter - Summer 2022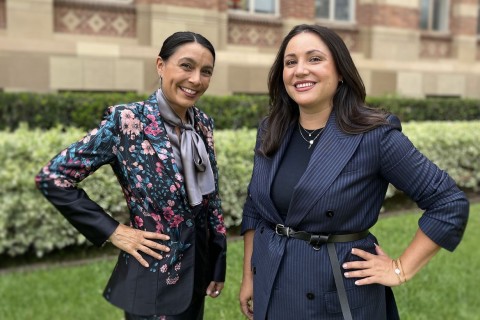 Pictured: Veronica Terriquez, CSRC director, and Sonja Diaz, LPPI founding director
Volume 20, Number 3
Director's Message
Last week, as the USA marked its 246th year as an independent nation, I reflected on the fragility of our democracy. This year has been especially tumultuous. Ongoing hardships are being exacerbated by the pandemic, gun violence is widespread, and attacks on human and civil rights are escalating. During this challenging time, I feel incredibly fortunate to be leading the CSRC, where I'm connected to faculty, researchers, and staff who are committed to advancing the needs of students and our communities and to advocates across California and beyond who are fighting for equity, inclusivity, and social justice.
In 2020 the Office of the Chancellor announced that efforts were underway to have UCLA designated as a Hispanic Serving Institution (HSI) by 2025, and in recent months the CSRC has worked with dedicated groups of faculty to implement key elements of the chancellor's HSI Infrastructure Initiative. The initiative focuses on laying the foundation for programs and policies that will reflect California's ethnic and cultural diversity. Faculty committees selected our inaugural group of
five HSI Initiative Postdoctoral Fellows
and nine Latinx Studies Seed Grant recipients. The committees also established plans for eight faculty searches in the coming year. The CSRC will conduct joint searches for tenure-track faculty whose research, mentoring, and/or experiences have ties to Latinx communities in the fields of engineering, statistics, psychology, social welfare, gender studies, English, political science, and interdisciplinary neuroscience. The CSRC is fortunate to have recently hired
César Oyervides-Cisneros
to help with the administration of these initiatives. One of his first accomplishments was helping coordinate a reception for UCLA's Latinx STEM faculty and postdocs, which was organized by the CSRC and co-sponsored by the David Geffen School of Medicine, the College of Life Sciences, the College of Physical Sciences, and the Samueli School of Engineering. In other HSI-aligned work, the CSRC's associate director,
Carlos Santos
, is leading the newly formed task force within the Department of Social Welfare in order to enhance social work research and training focused on serving Latinx communities.  
To address the issues and concerns of California's young Latinx majority and other diverse youth, the CSRC has invested in community-engaged research that is developing recommendations for strengthening our democratic institutions and tackling persistent social inequalities. I am especially proud of the UC, community college, and high school students who are part of the
California Freedom Summer
Participatory Action Research Project. These students are leading research studies, campaigns, and youth conferences across the state. Their work will inform the CSRC's research agenda by collecting data on the types of investment and support needed to allow young people from marginalized communities to thrive. This participatory action research aligns with the framework presented in
Educating toward a Multiracial Democracy
in California
, a recent working paper from the UCLA Institute for Democracy, Education, and Access that was developed in collaboration with the CSRC.
In a time of multiple crises, it is my hope that the CSRC, through deep collaborations and incisive research, will help inform solutions to pressing social problems. Given the recent Supreme Court decision that undermines women's health and self-determination, this includes making sure that the voices of young Latinas are heard. To this end, the CSRC is honored to be partnering with the
Latino Policy and Politics Institute
on the
Latina Futures, 2050 Lab
.  Funded by a $15 million California state budget allocation, the lab will support research and programming that emphasizes the rights and leadership of Latinas in civil society and the workplace.
The CSRC's research agenda and programming depends on the support and collaboration of so many individuals. I am grateful for all those who join us in our efforts here on campus and in the community. ¡Adelante Juntos!
Veronica Terriquez
Director and Professor
OPPORTUNITIES
EVENTS
NEWS
Cesar Favila, assistant professor of musicology and CSRC Faculty Advisory Committee member, is the recipient of two research awards. Named the American Council of Learned Societies (ACLS) Susan McClary and Robert Walser Fellow for 2022, Favila will conduct research on his project "Immaculate Sounds: The Musical Lives of Nuns in New Spain." Favila has also been named a Mellon Emerging Faculty Leader (MEFL) for 2022. Funded by the Mellon Foundation, MEFL Awards provide a twelve-month stipend to junior faculty who are pursuing tenure while working to make their fields of study and campuses more inclusive.
Darling Sianez, former CSRC business manager, has joined the staff of the Bunche Center for African American Studies as its new business and operations analyst. Sianez began working for the CSRC in 2008 and quickly became an essential member of the CSRC operations and administrative staff. We will miss her, and we wish her the very best in her new position.
Paul Joseph López Oro has been selected as the CSRC's Institute of American Cultures visiting scholar for 2022-23. López Oro is a transdisciplinary Black studies scholar whose teaching and research closely examines Black Latin American and U.S. Black Latinx social movements, hemispheric mobilizations and migrations, and Black feminist queer theories and ethnographies. During his year in residency he will be working on his book manuscript, tentatively titled "Indigenous Blackness in the Américas: The Queer Politics of Self-Making Garifuna New York." The study is a critical ethnography of how gender and sexuality shape the ways in which transgenerational Garifuna New Yorkers of Central American descent negotiate, perform, and articulate their multiple subjectivities as Black/Indigenous/Central American Caribbeans. He is an associate professor in the department of sociology at Hunter College, City University of New York.
Stevie Ruiz

is an associate professor of environmental justice, critical race theory, and Chicana/o studies at California State University, Northridge, and was the Institute of American Cultures visiting scholar at the CSRC for 2021-22. He was also a Huntington Long-Term Fellow. His publications during the year included the article "Camp Chicano: The Racialization of the Great Outdoors in the Civilian Conservation Corps," forthcoming in

Latino Studies

. He also co-edited a special issue of

Resilience: A Journal of Environmental Humanities

titled "Environmental Justice in Chicana/o Communities," and he co-authored a paper with his students, "Contested Cartography: Transformational Teaching and GIS Research in Chicanx Studies," that appeared in the same issue. Ruiz chaired a panel on the South Asian Farmer's Movement at the Association for Asian Studies conference in Oahu, Hawaii, in March. Finally, he completed a full draft of his book manuscript, "Stewards of the Land: Race, Space, and Environmental Justice," to be published by University of North Carolina Press. His publications can be found at

https://csun.academia.edu/StevieRuiz

Uriel Serrano

is a PhD candidate in sociology and critical race and ethnic studies at UC Santa Cruz and was a 2021-22 Ford Dissertation Fellow and UC President's Dissertation Fellow based at the CSRC. During the year, Serrano worked on various collaborative projects with youth organizations in Los Angeles. He co-authored the op-ed "

How a Coalition Creates Paths to Healing for Young Men of Color"

for KCET (December 2021). In 2022, he published the co-authored article

"Towards Community Rooted Research and Praxis: Reflections on the BSS Safety and Youth Justice Project"

in

Social Sciences

and, in collaboration with Brittany P. Battle, "

Toward a Du Boisian Paradigm of Family Science

" in the

Journal of Family Theory and Review

. He is currently completing two manuscripts from his dissertation project. The first explores how criminalization shapes the racialized emotions of children and youth in Los Angeles. The second examines how Black and Latinx young men engage in intersectional thinking, how it informs their analysis of the carceral state, and how abolition and intersectionality inform their activism and coalition building. Finally, Serrano was an invited speaker at the American Educational Research Association Annual Meeting; the Cal State University Young Men of Color Forum; UC Santa Cruz; Montclair State University; CSULA; and the University of North Carolina-Chapel Hill. Serrano will complete his dissertation this summer and has accepted a postdoctoral fellowship in Community Organizing and Social Computing in the Department of Informatics at UC Irvine.

Vincente Carrillo

was the CSRC's 2021-22 IUPLR-Mellon Dissertation Fellow. During the year he published the article

"Pride Arrives to the Barrio: An Ethnographic Reflection of Boyle Height's Orgullo Fest"

in

Latinx Talk

(April 2022). In June, Carrillo graduated from UCLA with a PhD in Chicana/o and Central American studies. His dissertation, "Queer Latinx Regeneration: Boyle Heights and the Geographies of Gentrification," explores queer-of-color belonging alongside the revitalizing barrio landscape of Boyle Heights. In the fall, Carrillo will begin a one-year postdoctoral fellowship in the Latina/o Studies Department at the University of Illinois, Champaign-Urbana.
Michael A. Olivas, presente!
The CSRC mourns the death of Michael A. Olivas, who passed away April 22. A professor emeritus at the University of Houston Law School, Olivas was an acclaimed scholar of higher education and immigration law and a fierce advocate for Latinx students. He influenced the early critical thinking on DACA. Olivas was the keynote speaker at two CSRC Latina/o Education Summits, in 2012 and 2014. Michael A. Olivas, presente!
LIBRARY
On March 8, CSRC librarian and archivist Xaviera Flores participated in a roundtable panel for Information Studies 289: "Audio Archiving." Flores spoke to a group of seventeen students on the challenges and the impact and benefits of preserving analog and digital audiovisual materials created by communities of color. The CSRC Library has over 2,000 holdings of film and audio elements. On May 6, Flores led a workshop on archiving the Chicano movement at the 2022 UMAS/MEChA Reunion at CSULA. The two-day event brought together high school students and teachers, undergraduate students, faculty, and guests to celebrate the leaders of El Movimiento with academically and culturally enriched programming and community events. It was organized by the CSULA Chicanx/Latinx Studies Department and the College of Ethnic Studies. On June 16, Flores was one of several guest speakers at Amor en Aztlán III, an online event hosted by the Santa Cruz Museum of Art and History (MAH). It featured collaborative artwork, performances, film screenings, and conversations with artist, documentary filmmaker, and queer activist T. Osa Hidalgo de la Riva.
The following exhibitions currently on view include images and artworks from CSRC collections and publications.
El Museo del Barrio, Brooklyn, NY, through September 11
Museum of Anthropology, Vancouver, British Columbia, Canada, through January 1, 2023
The Autry Museum, Los Angeles, CA, ongoing
Smithsonian National Museum of American History, Washington, DC
Google Arts and Culture
PRESS
"The Undermobilization of Young Voters in California: Tapping the Potential to Build Youth Political Power," by Veronica Terriquez and Josefina Flores Morales, explores the low participation of young voters in midterm elections. The authors look at patterns of voter registration and turnout in California for eligible voters aged 18–34 in the 2018 midterm election. They argue that even though young adults have much at stake, they may be less aware of the implications of congressional, state, and local election outcomes than their older counterparts are, and they point out that the 2020 midterms offer an opportunity to activate undermobilized young adults. Veronica Terriquez is a professor and the director of the CSRC. Josefina Flores Morales is a research assistant at the CSRC and PhD candidate in the UCLA Department of Sociology. The report may be downloaded here.
CSRC IN THE NEWS
A feature on the new research project Latina Futures, 2050 Lab, a collaboration between the CSRC and the Latino Policy and Politics Institute, to be funded with a $15 million allocation from the State of California.
The Latino Politics and Policy Institute issued a press release on state funding to launch the Latina Futures, 2050 Lab, a collaboration between the LPPI and the CSRC.
A story on a study concerning housing insecurity among communities of color in California. The study was a collaboration of the UCLA Center for Neighborhood Knowledge, the Asian American Studies Center, the Latino Policy and Politics Initiative, and the CSRC.
The CSRC was named in a story listing major universities offering education and research opportunities in the field of Chicano studies.
A feature story on artist and CSRC collections donor Raphael Montañez Ortiz and a preview of his current retrospective at the El Museo del Barrio. The exhibition includes materials on loan from the CSRC.
A story about a forum held by Future Leaders of America and the CSRC that was aimed at teaching college students in Santa Barbara the history of the politicization of school board meetings. 
A profile and video of Moctesuma Esparza, a producer, lifelong activist for educational equity, and CSRC collections donor.
CSRC director Veronica Terriquez commented on a report from the Terner Center for Housing Innovation at UC Berkeley, which showed that the Latinx population of California is at high risk for rental housing insecurity.
LAist spotlighted an event at the Grammy Museum held in partnership with the CSRC. The discussion on the history of the Chicano movement featured musicians Mark Guerrero and Little Willie and CSRC director Veronica Terriquez; Melissa Hidalgo was the moderator.