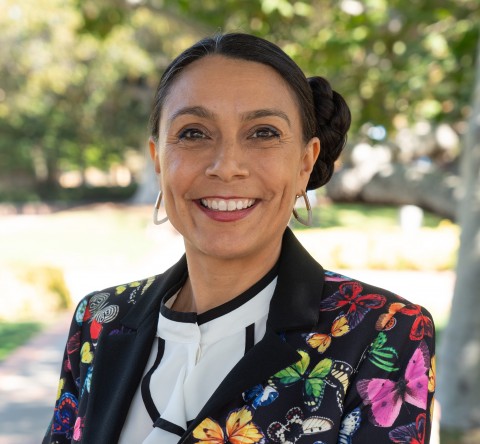 VERONICA TERRIQUEZ, PHD
The daughter of Mexican immigrants and born and raised in Los Angeles County, Dr. Veronica Terriquez is a sociologist who whose research focuses on social inequality, civic engagement, health, and youth transitions to adulthood among Latinx and other diverse populations. As CSRC director, Terriquez seeks to build on the center's existing projects and develop new initiatives on Latinx communities that align with the University's mission to serve the state and maintain a community presence. She brings to the position extensive experience working with a broad range of community stakeholders, having partnered with youth, labor, arts, education, health and local government institutions. Her research agenda seeks to respond to contemporary political, economic, immigration, environmental and social crises affecting Latinx and similarly situated populations.
Terriquez is a professor of urban planning and Chicana/o and Central American studies at UCLA. She received a doctorate in sociology at UCLA, a master's degree in education at UC Berkeley, and a bachelor's degree in sociology at Harvard University. During the 2020-21 academic year she was a fellow at the Stanford Center for the Advance Studies in the Behavioral Sciences. Her research has been published in the American Sociological Review, Social Problems, Social Science & Medicine, Community Development, Education Policy, Gender & Society, and other peer-reviewed journals. An expert in participatory action research (PAR), Terriquez has co-authored with colleagues and students over forty widely disseminated research reports on labor, community, and youth organizing. Accordingly, much of her scholarly work has implications for policies affecting Latinx, immigrant, and other low-income communities of color. In 2021, she received the American Association of Hispanics in Higher Education University Faculty Award and the American Sociological Association Award for Public Sociology in International Migration.