CSRC Welcomes César Oyervides-Cisneros, Senior Administrator of Campus Initiatives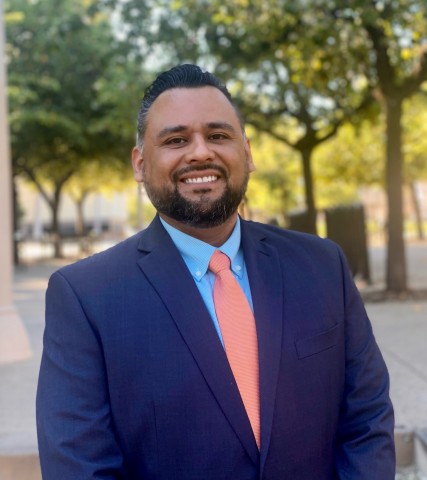 The CSRC is pleased to welcome César Oyervides-Cisneros as its senior administrator of campus initiatives. In this role he will help implement key capacity-building infrastructure initiatives as UCLA becomes a Hispanic-Serving Institution. Additionally, Oyervides-Cisneros will contribute to CSRC and Institute of American Cultures (IAC) projects related to developing an ethnic studies curriculum for California's high schools.  His responsibilities include supporting CSRC's operations in an administrative capacity. 
Oyervides-Cisneros has extensive experience working on programs and initiatives at two Hispanic-Serving Institutions. He comes to UCLA from the University of California, Riverside (UCR), where he served as the director of UCR College Corps and program manager of the University Eastside Community Collaborative (UECC)/AmeriCorps. Previously, Oyervides-Cisneros was the founding manager of the CUNY Service Corps at Queens College (part of the City University of New York). He has also served as the director of federal relations and outreach for the Hispanic Association of Colleges and Universities (HACU) and as part of the management team of the HACU National Internship Program, which is based in Washington, DC. In each of these positions, he led recruitment efforts, implemented professional development programs, and maintained relationships between community partners and university entities.
Born in Guanajuato, Mexico, and raised in Fontana, California, Oyervides-Cisneros brings over fifteen years of experience to the CSRC. He has focused his career on developing partnerships and leveraging resources that can connect underserved communities to the educational and employment pipelines. His projects have targeted different points of the educational pipeline, from working with youths who are out of school and out of work to connecting the resources and talents of the university community to the needs of local residents and community-based organizations.  His goal is to provide opportunities that allow members of underserved communities to develop self-actualization and reach self-determination.
Oyervides-Cisneros is an alumnus of the Harvard University Graduate School of Education, where he received an EdM his Master of Education in human development and psychology, and UCR, where he received a BA in linguistics and ethnic studies, with a minor in Chicano bilingual-bicultural studies. As an undergrad, he also participated in the UCLA Law Fellows Program.
Contact: coyervides@chicano.ucla.edu
Photo: Karina Oyervides