CSRC Welcomes Krystell Jimenez, Latina Futures Librarian and Archivist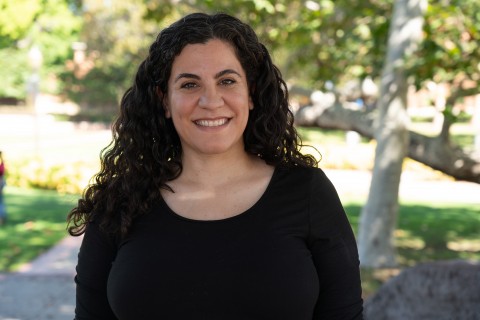 The CSRC is pleased to welcome Krystell Jimenez, MLIS, as librarian and archivist for the Latina Futures, 2050 Lab. In this new position, Jimenez will be processing, describing, and managing the CSRC's Mujeres and LGBTQ+ collections. Her work will focus on collections pertaining to women, femmes, and feminine-presenting persons in the Chicanx, Central American, and U.S. Latina/o/x communities.
Jimenez comes to the CSRC with archival experience largely focused on community archives and non-traditional approaches to collections management. Her experience includes working with the Coalition for Humane Immigrant Rights Los Angeles (CHIRLA) to help find a home for the organization's archives. In addition, as a graduate student at UCLA, Jimenez contributed to Professor Anne Gilliland's Refugee Rights in Records (R3) Initiative. Her work for the project is summarized in the article "Documentation and Recordkeeping Issues Affecting Refugees in Turkey: A Review," published in Preservation, Digital Technology & Culture (vol. 48, issue 2, 2019). Her report examined the challenges facing refugees, displaced persons, and asylum seekers who either have applied for asylum while residing in Turkey or are transiting through, as well as the high degree of interdependency between types of documents and the need for alternative solutions and interventions for asylum seekers navigating the legal process. Prior to joining the CSRC, Jimenez worked at the Museum of Ventura County, a history and art museum located in Ventura, California. From 2019-2023 she served as the Research Libraries processing archivist. In addition to processing archival collections, she established procedures and workflows for the museum's archive. 
Jimenez is an alum of UCLA, where she received a Master's of Library and Information Science, and UC Berkeley, where she earned a BA in Middle Eastern Studies.
Contact: kjimenez@chicano.ucla.edu