CSRC Report: "California's Young Latinx Voters and the 2022 Midterm Election"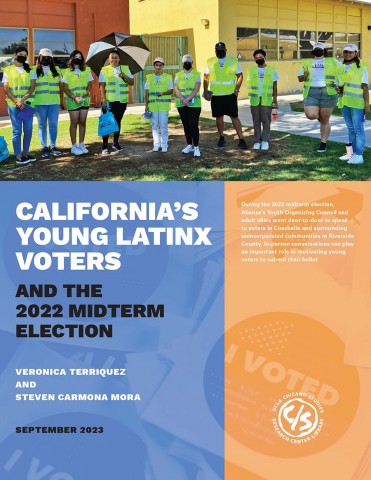 By Veronica Terriquez and Steven Carmona Mora
September 2023
During the 2022 midterm election, Alianza's Youth Organizing Council and adult allies went door-to-door to speak to voters in Coachella and surrounding unincorporated communities in Riverside County. In-person conversations can play an important role in motivating young voters to submit their ballot.
This brief focuses on the turnout of Latinx young adult voters, specifically those aged eighteen to thirty-four, in California's 2022 midterm election. Latinx voters compose the largest ethno-racial group in this age bracket, and their participation at the ballot box has important implications for the healthy functioning of local and state governments in California. In this report we look at county-level voting patterns of Latinx young adults.
Published by CSRC Press.