COMMENTARY: "Presentation to Tomás Ybarra-Frausto at the Smithsonian Archives of American Art Annual Benefit"
By Chon A. Noriega, CSRC director and professor of film and television
I first met Tomás Ybarra-Frausto at Stanford University in 1989. I had been a PhD student for two years and was at a turning point. I was the first person in my family to graduate college, working full-time for over six years as I earned my BA. Now I could not see how academic work made a difference.  
Meeting Tomás changed my life. He was gentle, good humored, generous. He seemed to speak in riddles as well as in dichos, or sayings drawn from everyday life. But he also participated in the larger world—by working with community-based and mainstream arts organizations, by writing rigorous scholarship for a general audience, and by doing the hard work of making a community larger than one's own kind.
At the time, Tomás was in the process of moving to New York to become associate director of arts and culture at the Rockefeller Foundation. There —as I came to see first-hand—he would help transform US foundation support for the arts by graciously placing it within the hemisphere.
As a mentor, Tomás shared his way of being in the world, and he also shared his access within that world. The first things I ever received from Tomás were two boxes of his research files on Chicano cinema. These became the seed of my dissertation, which Tomás chaired. Tomás also made room for me at the table, putting me in his place as a contributor, curator, and participant in the CineFestival at the Guadalupe Cultural Arts Center in San Antonio. It is there that I would meet my peers who were also trying to make a difference. 
Tomás's writings are foundational to the study of Chicano art and culture. And it is important to note that his intellectual work rests on a distinct archival practice. Tomás could not presume an existing institutional archive in which he could glean from primary documents. Instead, he was obligated to join forces with others in creating the archive, defining the bibliography, facilitating the exhibition of art in diverse settings, and developing theoretical frameworks from vernacular knowledge.
The artifacts of Tomás's commitments—his papers—are one of the most used collections at the Smithsonian Archives of American Art. But it does not end there. Tomás has inspired an archival ethos across several generations. So when Tomás gave me those two boxes, it was a transformative gift that went beyond the documents themselves: the gift was in the compromiso or commitment that was required of me to accept these documents, add to them, and pass them on to others.  
In the spirit of Tomás, I will end with two lessons that I learned from him.
First, mentoring matters. In Tomás I saw how to love a world beyond your control, and to search humbly for the contributions one could make. Dogma can be a comforting thing, it can even be right, but it is never compassionate, no matter what its political stripe. I can't pretend to be anything like Tomás, but I can say that I do my best to support those around me who are trying to do their best, even if what they are trying to do conflicts with my own beliefs or goals.
Second, art matters. And no one understands that better than Tomás. We are in a moment that needs art, its space of reflection, its sense of beauty, and its striving for truth. If that sounds idealistic, or impractical, I agree with you: but I would also remind you that what we fight for today does not boil down to ideology, or policies, or resources, but something more fundamental: how we treat each other in our short time on Earth.
Tomás, your presence in the world has meant more than you could ever imagine. The first time we had dinner, you went on and on about agape. When I got home and could look up the word, I was even more confused. Tonight, on my birthday, I can think of no other place I'd rather be than here to present you with the Lawrence A. Fleischman Award for Scholarly Excellence in the Field of American Art History. I did the math this morning and realized that I am now older than you were when we first met. Tomás, I want to respond to that long ago conversation about agape, only now as someone who is a scholar, a curator, a mentor, and, still, your student, by saying, quite simply, "I love you, Tomás." You deserve this award, but just as important this award deserves you.
Delivered at the Smithsonian Archives of American Art Annual Benefit, New York City, October 24, 2017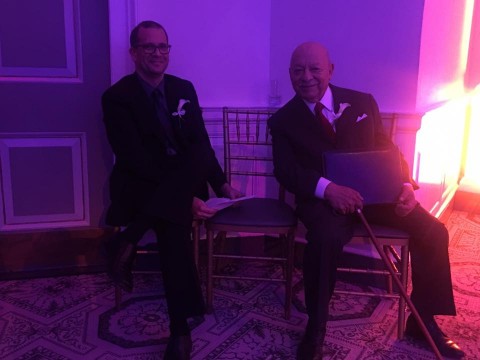 Image: Chon Noriega and Tomás Ybarra-Frausto. Photo by Dolores Carrillo Garcia.