¡Esteban Torres, presente!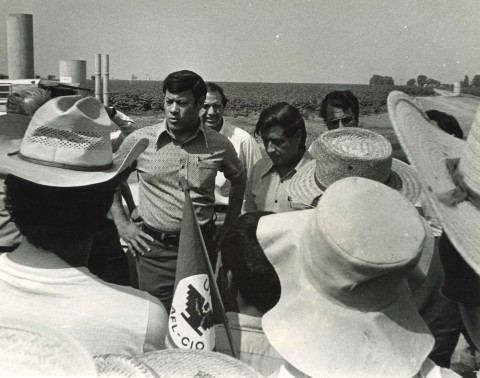 February 3, 2022
Last month, America lost a true leader, someone who fought for our country while also challenging it to live up to its ideals and promises. The Hon. Esteban E. Torres was a child of immigrants, a military veteran, autoworker, labor organizer, civil rights and community development activist, and US Congressman. He was also an artist, drawing and painting whenever he could.
I first met Esteban in the late 1990s, as he was wrapping up his tenure as a US Congressman. I knew him by reputation as someone who selflessly advocated and legislated for workers, low-income communities, and immigrants. He knew their experiences firsthand. As a child in the 1930s, he was separated from his father forever when the U.S. government deported his father as part of the Depression-era "repatriation" of Mexicans and Mexican Americans. If Esteban would go on to have a substantial career in government service, in some part it was to ensure that the US honors its foundation as a "nation of immigrants," with equal opportunity and protection for all.  
Esteban was a huge influence on me. I was fortunate to have worked with him in his "retirement," when he founded and chaired the National Latino Media Council. In that role he negotiated a Memoranda of Understanding with ABC, CBS, NBC, and Fox, opening a period of new Latino-themed television series at the start of the new millennium. I am especially honored to have had the opportunity years later to archive Esteban's papers at the UCLA Chicano Studies Research Center (CSRC). The CSRC houses over one hundred linear feet of archival materials that document his life and legacy.
Certainly one of the high points of my tenure as the director of the CSRC was playing a role in having the UCLA Medal awarded to Esteban in July 2020, during the early months of the pandemic. The UCLA Medal is presented by the chancellor and is the highest honor that the university bestows for extraordinary accomplishment. I wish the event could have been in person, but it was nonetheless a much-needed moment of hope, recognition, and gratitude during a difficult time for our country's physical and political health. Who else but Esteban? He was one of the good guys. I learned a lot from him. Not just about political tactics and strategy, but about integrity and style. I remember one lunch at journalist Yolanda Nava's house when he identified the style of her Persian rug, then elaborated on its history. I don't know why, but that made a big impression on me. Esteban fought the good fight, and he always honored where he came from. But he also truly enjoyed living in the world at large—and there he made a difference.
I will treasure the last phone conversation we had after the UCLA Medal event. He was so sweet and generous, as always. Our condolences go out to his family, friends, and colleagues. He will be missed, but his impact remains with us all. ¡Esteban Torres, presente!
—Chon A. Noriega, Distinguished Professor of Film, Television, and Digital Media and former Director, UCLA Chicano Studies Research Center
Photo: Esteban E. Torres meets with César Chávez and farmworkers protesting labor conditions, c. 1970s. Image courtesy of Rena Torres.
Official press release attached below.