Previous Library Exhibition
Make 'Em All Mexican: Works by Linda Vallejo
January 12 – March 20, 2015
In the library and vitrine
Opening reception: Wednesday, January 21, 4:00-6:00 p.m.
with Linda Vallejo, in person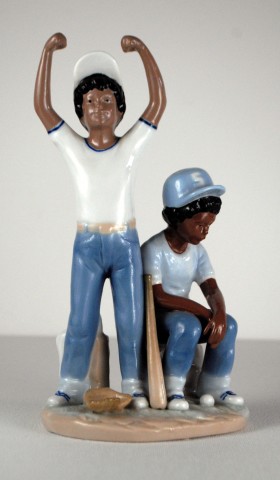 Linda Vallejo,
Championes,
2013. Acrylic, repurposed porcelain;
8" (h) x 4"x 3".
The work of Los Angeles artist Linda Vallejo is featured in a new exhibition at the CSRC Library that includes selections from Vallejo's acclaimed Make 'Em All Mexican series, plus excerpts from critical essays, publications that feature the series, and objects from the CSRC's portfolio of the artist in its collections. For this series, the artist takes iconic images of national and world culture and "makes them Mexican" by using a variety of media to change the color of their skin. The result is a series that uses humor and irony to question whether race, color, and class define our status in the world. The artist states, "Make 'Em All Mexican carries a strong electric charge. To some viewers, the images are hyper-political; for others, they are emotional portals to a past remembered and sometimes forgotten; and for another group, they are just downright hilarious. I have re-created a familiar world to create a new unfamiliar image, one that is unfamiliar to everyone that's not brown."
The fall 2014 issue of
Aztlán
features an essay by the artist as well as works from the Make 'Em All Mexican series; an excerpt from the essay can be read
here
.