Rotating exhibitions drawn from CSRC collections are on display inside the library and in the vitrine near the front entrance. All exhibitions are free to the public and viewable during regular library hours.
That's Entertainment: Dan Guerrero and the Making of a Hollywood Original
Presented in collaboration with UC Santa Barbara Library Dept. of Special Collections
October 29 – December 19, 2014
In the library and vitrine
Opening reception: Wednesday, October 29, 4:00-7:00 p.m.
with Dan Guerrero, in person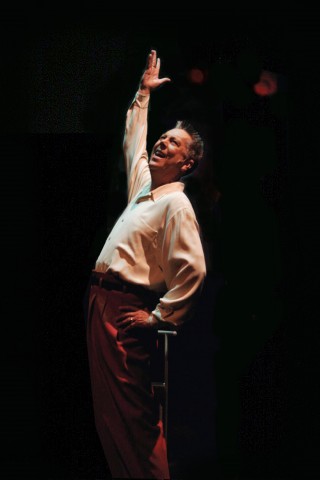 Photo by Luther Orrick-Guzman
That's Entertainment centers on the life of a man Hispanic magazine once named "one of the 25 most powerful Latinos in Hollywood." Son of the legendary musician Lalo Guerrero, Dan Guerrero is an award-winning television and live event producer, a Broadway talent agent, a Latino and LGBTQ activist, and a writer and performer. Guerrero's life narrative draws on his dual identities as both a Mexican-American and gay man. Through his personal evolution, Guerrero has come to embrace these complex identities as a source of empowerment and an inspiration to others.
This exhibition includes documentary images of Guerrero's youth in East Los Angeles, his years in the New York theater, his return to Los Angeles as a Hollywood producer, and his work as an outspoken activist for both the Latino and LGBTQ communities. His lifelong friendship with Carlos Almaraz, the late celebrated Chicano visual artist, is also depicted.
The materials for this exhibition are taken from the Dan Guerrero Research Collection at the UCLA Chicano Studies Research Center and the California Ethnic and Multicultural Archives (CEMA) in the UCSB Library's Department of Special Collections.
Previous CSRC Library Exhibitions