Rotating exhibitions drawn from CSRC collections are on display inside the library and in the vitrine near the front entrance. All exhibitions are free to the public and viewable during regular library hours, Monday-Friday 10 a.m.-5 p.m.
Young Workers Rising: Demonstrating a Movement for Better Wages
April 6 – May 1, 2015
In the library
Opening reception: Thursday, April 9, 12:00-2:00 p.m.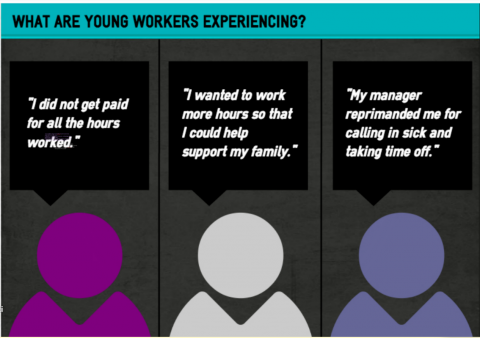 Power concedes nothing without a demand. It never did and it never will. -Frederick Douglass
Young Workers Rising: Demonstrating a Movement for Better Wages, the new exhibition at the CSRC Library, features photographs that focus on labor organizing among young workers in Los Angeles's retail and fast-food industries. Through workers' associations such as "Fight for $15" and "Our Walmart," they are demanding higher wages and better working conditions. The exhibition captures the growth of this social movement through photographs of demonstrations and arrests as well as posters that reflect previous generations' worker activism. Also represented in the show are memes that have served as a powerful tool of communication.
Young Workers Rising is curated by senior undergraduate student Alfredo Alvarez, a political science major with a concentration in American politics and a minor in labor and workplace studies. Paul Von Blum, senior lecturer in African American studies and communication studies, is Alvarez's faculty mentor for this exhibition. Alvarez transferred to UCLA from South Western Community College in Chula Vista, California.
Previous CSRC Library Exhibitions