Important ongoing CSRC research projects include A Ver: Revisioning Art History, which is documenting and preserving the work of individual Latina/o artists, the Strachwitz Frontera Collection of Mexican and Mexican American Recordings Digitization Project, and Latinos and Economic Security (LES). Additional research projects include Corner Store Makeovers in East Los Angeles: Improving Healthy Food Access and Pacific Standard Time: LA/LA, a Getty Foundation arts initiative of which the CSRC is one of the five organizing institutions.
Each year the CSRC presents a Latina/o Education Summit that brings together scholars, educators, community representatives, policy makers, administrators, and students to explore viable policy recommendations and initiatives that can improve educational opportunities for Latina/o students and all students of color in the U.S.
The CSRC hosts numerous archival research projects related to music, cinema, fine art, and the social sciences. We are constantly working to preserve the rich and diverse history of the Chicana/o and Latina/o communities for future research, classroom instruction, and the public at large.
The CSRC Press regularly publishes briefs and reports of current research supported by the CSRC.
Browse current and completed projects in Arts & Culture, Education, Public Health, and Social Sciences, as well as Archival Projects.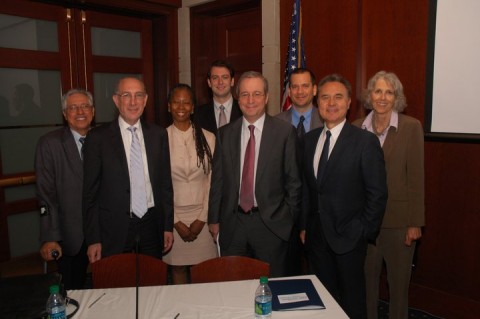 Image:
Panelists at the LES Congressional Briefing in Washington D.C., July 7, 2011.
From left to right: Fernando Torres-Gil, Robert Greenstein, Kilolo Kijakazi, Zachary D. Gassoumis, Ronald Brownstein,
Chon A. Noriega, Max Benavidez, and Kathleen H. Wilber