California Freedom Summer Participatory Action Research Project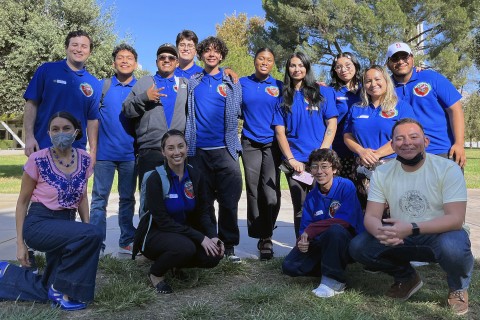 Young people have a lot at stake when it comes to the future of their communities and our democracy as a whole. The COVID-19 pandemic, recent movements for racial justice, and climate disasters have heightened the urgency to ensure that young people play an active, informed role in decision-making processes that have serious consequences for our collective future. California Freedom Summer (CFS), a participatory-action research project that will engage University of California undergraduate students, helps address important questions and debates related to recent historical developments.
Through university-community partnerships, CFS trained one hundred and fourteen college and high school students as Summer 2022 fellows and youth action researchers in 501(c)3 nonprofit organizations to mentor other young leaders, conduct voter education, and support grassroots campaigns. These student leaders also collected, analyzed, and disseminated data that contributes to academic research and informs youth-led efforts.
The project included a Winter/Summer 2-unit independent study and Spring 2022 ethnic studies coursework to prepare UC students for summer internships. Coursework oriented students to the historical, economic, social, and political dynamics shaping outcomes for racially diverse youth, while also equipping them with applied research skills to examine voter outreach and grassroots organizing efforts. Student training was conducted in coordination with community partners, including YO! California and Power CA. 
Collectively, summer fellows registered over five thousand young people throughout California, hosted seven Youth Leadership Conferences and two community concerts featuring Las Cafeteras and Snow the Product, among other musical groups to inspire young people toward civic engagement. 
CFS was led by Dr. Veronica Terriquez, UCLA Chicano Studies Research Center Director, and involved collaboration with the other ethnic studies research centers within the UCLA Institute of American Cultures, as well as faculty at other UC campuses, faculty at community colleges, and public high school teachers.
The program aimed to: (1) promote youths' leadership in their own communities; (2) strengthen linkages among high schools, community colleges, and the UC system; (3) enhance the capacity of civic engagement organizations; (4) increase voter turnout in high poverty communities; and (5) contribute to research on youths' civic engagement as their communities recover from the COVID-19 pandemic.
California Freedom Summer will be supporting "Youth Participating Action Research in 2023." For more information, contact Eder Gaona- Macedo, CSRC Senior Officer of Community-Engaged Research, at egaonamacedo@chicano.ucla.edu.
Community Partners
Statewide
YO! California 
Power California
Bay/NoCal 
Californians for Justice
Coalition for Humane Immigrant Rights (CHIRLA)
Urban Peace 
Youth Forward
Central Valley
Act for Women and Girls 
California Freedom Summer (Fellow Coordinators) 
Loud 4 Tomorrow
Central Coast
805UndocuFund
Central Coast Alliance for United for a Sustainable Economy (CAUSE)
Future Leaders of America (FLA) 
Future for Lompoc Youth 
Oxnard College
Imperial Valley
Imperial Valley Equity and Justice Coalition
Inland Empire
Alianza Coachella Valley 
Gente Organizada
Training Occupational Development Educating Communities (TODEC)
Inland Coalition for Immigrant Justice (IC4IJ)
Uplift
Los Angeles
Communities for a Better Environment
Community Coalition (CoCo) 
Compton Color of Change 
East Yard Communities for Environmental Justice 
InnerCity Struggle (ICS)
Khmer Girls in Action
Southeast Asian Community Alliance (SEACA)
Student Deserve
Orange County 
Resilience Orange County (OC)
San Diego 
MidCity Community Advocacy Network (CAN)
Partnership for the Advancement of New Americans (PANA)
COMMUNITY COLLEGE PARTNERS
Allan Hancock Community College 
College of the Desert 
College of the Sequoias 
Oxnard College
SUPPORTERS
James S. Bower Foundation
Ralph J. Bunche Center for African American Studies  
The California Endowment 
Gold Shield, a UCLA alumni group
Latino Community Foundation
McCune Foundation      
Stuart Foundation
Weingart Foundation
Tamar Diana Wilson Fund  
Edwin and Jeanne Woods Family Foundation