Home—So Different, So Appealing
Organized by the UCLA Chicano Studies Research Center for the Getty-led arts initiative Pacific Standard Time: LA/LA, the exhibition Home—So Different, So Appealing explores how contemporary U.S. Latino and Latin American artists address the concept of "home."

Video tour: Home—So Different, So Appealing, 2017. Trailer produced by LACMA.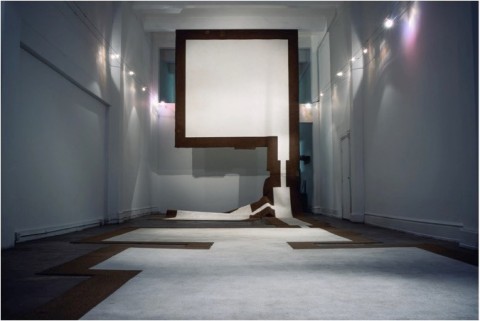 Carmen Argote, 
720 Sq. Ft.: Household Mutations
, Part B (at Gallery g727) 2011,
Sculpture installation- carpet from artist' childhood home, house paint, 798 ½ x 178 in., 
Courtesy of the Artist, Los Angeles
The exhibition will run June 11-October 15, 2017 at the Broad Contemporary Art Museum located at the Los Angeles County Museum of Art (LACMA) and then travel to the Museum of Fine Arts Houston (MFAH), November 17, 2017 - January 21, 2018. Home—So Different, So Appealing is curated by Chon Noriega, director of the UCLA Chicano Studies Research Center; Mari Carmen Ramírez, Wortham Curator of Latin American Art at Museum of Fine Arts, Houston; and Pilar Tompkins Rivas, director of the Vincent Price Art Museum. A full-color catalog published by CSRC Press will accompany the exhibition.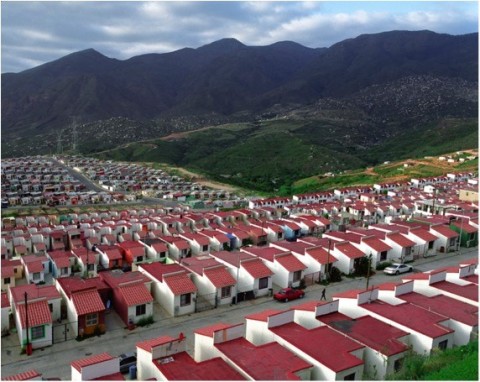 Livia Corona Benjamin, Ten Thousand Three Hundred Square Feet Homes, 2009,
30 x 40 in., C-Print, Ed. 5+2 AP, Courtesy of the Artist, New York
Home is an essential social concept that  bridges political, economic, and geographic  divides; this universality enables Home—So  Different, So Appealing to foster a rich  dialogue between U.S. Latino and Latin  American artists, many of whom have  never before been presented together.  Spanning seven decades and featuring  works that range in style from Pop art and  Conceptualism to "anarchitecture" and  autoconstrucción, the exhibition offers an  alternative narrative of postwar and  contemporary art in the Western Hemisphere. The exhibition will be divided into themes:  Model Homes, Archaeology of Home, Mapping Home, Recycled Homes, Home as Form, Embodied Home, Troubled Homeland, and Going Home.
Julio César Morales, 
Boy in Suitcase, 
2015, HD Animation video with sound and mirror,
3:33 minutes, Edition of 3+2AP
, 
Courtesy of the Artist and Gallery Wendi Norris
Home—So Different, So Appealing features nearly one hundred works made from the late 1950s to the present by artists from U.S. Latino communities, Argentina, Brazil, Colombia, Cuba, Guatemala, Mexico, Puerto Rico, Uruguay, and elsewhere. This will be the first large-scale exhibition at a major U.S. museum to put into dialogue U.S. Latino and Latin American contemporary art.
For additional images, click here. 
 
Home—So Different, So Appealing is part of Pacific Standard Time: LA/LA, a far-reaching and ambitious exploration of Latin American and Latino art in dialogue with Los Angeles, taking place at more than 70 cultural institutions across Southern California. Pacific Standard Time is an initiative of the Getty. The
presenting sponsor is Bank of America. For more information, visit pacificstandardtime.org.