Aztlán Spotlight Artist's Communiqué
Volume 39, Number 2
Fall 2014
Artist's Communiqué: Make 'Em All Mexican
by Linda Vallejo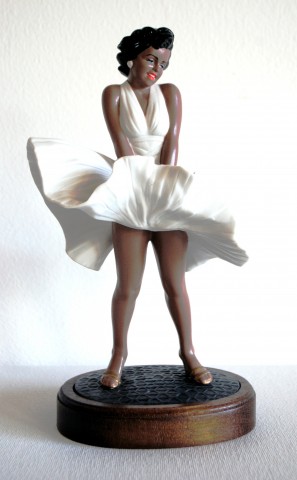 My early years were spent traveling and studying in far-flung locations
throughout the United States and Europe. During my artistic grounding, I
became increasingly immersed in Chicano art and indigenous communities—
experiences that have informed my cultural perspectives and, by
extension, my art practice. It has taken my entire artistic career to fuse
an image that defines my multicultural experience of the world and my
place in it.

I was born in Boyle Heights and lived in East Los Angeles, just a stone's
throw away from Self Help Graphics & Art, until I was three years old. I was
very fortunate to have six great-grandparents and a large extended family in
those early years. My father, Adam Vallejo, was studying political science at
the University of California, Los Angeles, and my mother, Helen, worked
for a prominent doctor on First Street. My father's family was blessed with
several musicians, including my paternal grandfather, Aniceto, as well as
talented singers and dancers. My great-grandparents hailed from Mexico
and Texas, having migrating to work in the fields of California in the first
decades of the twentieth century.

After my father graduated from college he entered the US Air Force as
a commissioned officer and we moved to Germany, just outside Munich. As
a young girl I didn't understand the changes I would experience in moving
from one place to another. Over the next ten years I lived in Arizona,
Missouri, Texas, and Sacramento, California, where we stayed for seven
years. In the mid-1960s I found myself in Montgomery, Alabama, where
my high school was integrated for the first time in its history. The tension
was palpable, and violence seemed imminent. The knowledge of myself as
a person of color, standing outside the lines of fire, scorched me indelibly.
I have memories of "white" and "colored" bathroom stalls and fountains,
of the tragic marches from Selma, of burning crosses and lynchings, and
of the hopeful speeches of Dr. Martin Luther King. I began to realize that
the world did not see me as I saw myself, that color was a defining point
in how the world judges us and fixes our place in it. I believe that these
experiences during the fight for integration and equality are the bedrock
of my newest series, Make 'Em All Mexican.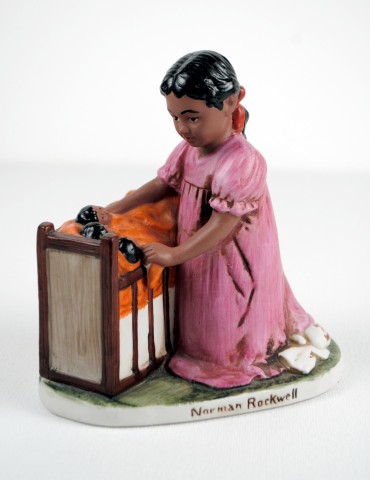 Images:
Top: Linda Vallejo, Marielena: La Fabulosa, 2012. From the Make 'Em All Mexican series. Repurposed porcelain and acrylic, 8 1/2 × 5 × 4 1/2. inches. Photograph courtesy of the artist.
Bottom: Linda Vallejo, Mi Niña, 2012. From the Make 'Em All Mexican series. Repurposed porcelain and acrylic, 5 3/4 × 6 × 3 1/2 inches. Photograph courtesy of the artist.