Previous Library Exhibition
Alex Donis: Floating World
November 13, 2012 – January 21, 2013
In the library and vitrine
Opening reception: Tuesday, November 13, 4:00-6:00 p.m.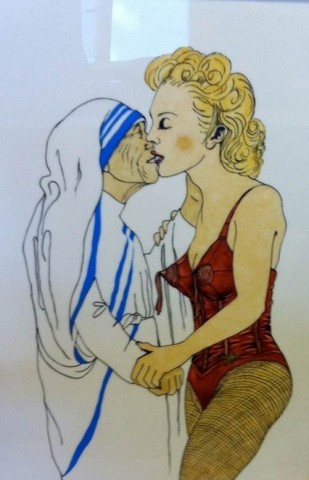 Alex Donis, "My Cathedral," 1997
Oil and enamel on plexiglass
Curated by the artist, this exhibition of works on paper examined and redefined the boundaries set within religion, politics, race, and sexuality. Los Angeles-based Donis has worked extensively in a variety of media, including painting, installation, and video. Donis's art is influenced by a tri-cultural (pop, Latino, and queer) experience. The CSRC is pleased to have the Alex Donis Papers in its archive.
A video of the exhibition reception, featuring speakers Chon Noriega, Alex Donis, and a performance by Chicano Batman, is available on
CSRC YouTube
.