Previous Library Exhibition
Dichos: The David Damian Figueroa Collection
September 19 – October 30, 2012
In the library and vitrine
Reception: Wednesday, October 3, 4:00-6:00 p.m.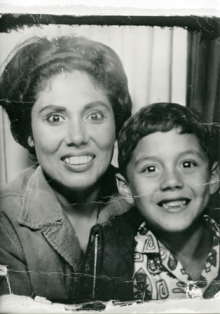 David Damian with his mom at the Arizona State Fair, 1967
This exhibition at the CSRC Library highlighted the personal collection of David Damian Figueroa and also included objects from his collection of papers, which are archived at the CSRC. Figueroa paired his mother's sayings—dichos—with items that represent his life's journey. Because the Latinas/os that have inspired his career reflect the lives and contributions of the Latina/o community more broadly, the exhibition also served as a tribute to the amazing men and women that form its history, art, and culture.
Artists: Kimberleigh Aarn, Esau Andrade, Joe Bravo, Barbara Carrasco, Rick Chávez, Margaret Garcia, Yolanda Gonzalez, Robert Hernandez, Gloria Molina, Steve Reyes, George Rodríguez, Teddy Sandoval, Patssi Valdez
A video of the exhibition reception, featuring speakers Chon Noriega, Dolores Huerta, and David Damian Figueroa, is available on
CSRC YouTube
.