PREVIOUS LIBRARY EXHIBITION
Profiles of Activism
Curated by Xaviera Flores and Angélica Becerra, with the assistance of Douglas Johnson and Michael Aguilar
October 17 – December 20, 2019
Extended through March 2020
Opening reception: Thursday, October 17, 5:00-7:30 p.m.
UCLA Chicano Studies Research Center Library
144 Haines Hall
In the library and vitrine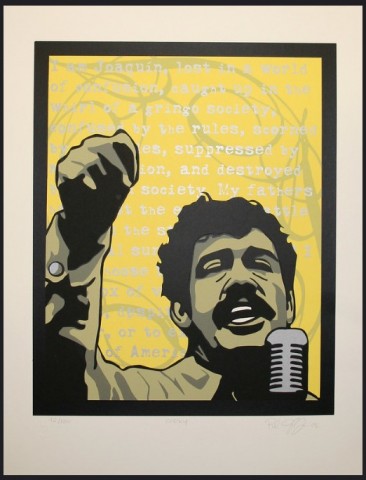 The Chicano Studies Research Center (CSRC) celebrates its fiftieth anniversary this year. Beginning in 1969—when the CSRC and UCLA's three other ethnic studies centers were founded under the umbrella of the Institute of American Cultures—the CSRC has promoted student activism, civil rights leadership, artistic expression, and the power of community. Since the center's inception, CSRC staff and affiliated faculty have dedicated themselves to research and teaching that make a difference.
To honor those who did what was right, not what was easy, the CSRC presents three mini exhibitions and an installation that celebrate fifty years of Chicanx and Latinx activism through art, literature, and scholarship.
Profiles of Activism gathers together prints, photographs, and books from the collections of the CSRC Library. These objects highlight the work of activists who defied the social norms of their times to pursue justice for their communities, often placing their lives on the line.
In Give Us Our Flowers: Latinx Artivist Portraits, artist and UCLA doctoral candidate Angélica Becerra presents watercolor portraits of four emerging or established artivists—artist-activists who are responsible for visual culture in contemporary social movements. The title of the exhibition articulates her belief that artivists of color, who work to dismantle structural oppression, should be nourished while alive, not ignored until after their deaths. The paintings are a visual appendix to Becerra's dissertation, "Envisioning a Chicana Radical Aesthetic: Digital Artivism in the Twenty-first Century."
Salomón Huerta's Portrait Series of Chicana/o-Latina/o and Mexican-Latin American Icons honors the leaders—both women and men—who have played a key role in making positive differences in the United States and Mexico. Huerta, who received his MFA from UCLA in 1998, created the seven portraits, painted in oil on plywood panels, while he was a UCLA Regent's Lecturer in 2017. 
The La Raza Interactive Touchscreen was commissioned by the Autry Museum of the American West (in collaboration with the CSRC) for La Raza, a 2017 exhibition that was part of the Getty's Pacific Standard Time: LA/LA initiative. Designed and developed by Narduli Studio, the touchscreen contains images from the CSRC's La Raza Photograph Collection, a digital archive of 25,000 photographs taken by the staff of La Raza newspaper and magazine. CSRC launched the La Raza project in 2013, when it began digitizing and preserving the photographs with the goal of providing public access to the images. The touchscreen allows users to explore the collection and to discover how the images connect people, place, and time.
Image: "Corky" © 2006 Raul Caracoza. From the Self Help Graphics and Art Research Collection.