PREVIOUS LIBRARY EXHIBITION
Family, Community, Country: The Nell and Phil Soto Story
Curated by Xaviera Flores, CSRC Librarian and Archivist
October 11 – December 14, 2018
Exhibition extended through June 30, 2019
Opening reception: Thursday, October 11, 5-7:30 p.m.
UCLA Chicano Studies Research Center Library
144 Haines Hall
In the library and vitrine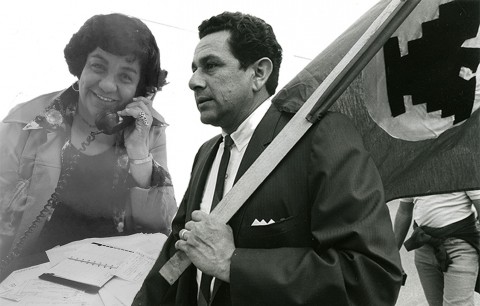 Family, Community, Country: The Nell and Phil Soto Story celebrates the lives and careers of Nell and Philip L. Soto. The Sotos were true pioneers, whose dedication to public service and determination to help their community continue to be an inspiration.
Nell and Phil felt the call to serve their country at a young age. During World War II, Phil was a bombardier in the US Army Air Corps and Nell worked at a factory that made bomb crates. It was at this factory that Nell and Phil met. They married in 1949 and reared six children.
Nell (1926–2009) was among the first Latina/o legislators to champion environmental causes. During her term on the Pomona City Council, from 1987 to 1998, she was appointed to the board of the South Coast Air Quality Management District. In 1998, at the age of seventy-two, she was elected to the California Assembly, representing the 61st District. Two years later Nell successfully ran to represent the 32nd District in the California Senate, where she was instrumental in the passage of legislation that improved the quality of drinking water. She returned to the Assembly in 2006, after serving two terms.
Philip L. Soto (1926–1997) served on the La Puente City Council before being elected in 1962 to represent the 50th District in the California Assembly, a seat he held for two terms. He was one of the first Latinos elected to the legislature since the state's early days. An activist for civil and labor rights, he marched with César Chávez from Delano to Sacramento in 1966 to protest the treatment of farm workers. Phil was also active in national politics, serving as campaign manager for La Puente during John F. Kennedy's presidential campaign and as an advisor for the presidential campaign of Robert F. Kennedy.
The Sotos were trailblazers throughout their careers. They pushed forward policies and legislation that put community first by focusing on better and safer education, cleaner air and water, better transportation, fair and equal housing, and green spaces and parks for children. Family, Community, Country: The Nell and Phil Soto Story highlights the couple's work in the state legislature, their contributions to the Kennedy campaigns, their involvement with civil rights activism in the 1970s, and family and community life. The exhibition draws from the Nell and Phil Soto Papers, recently donated to the UCLA Chicano Studies Research Center.