Previous Library Exhibition
THE 1968 WALKOUTS: SELECTIONS FROM UCLA CHICANO STUDIES RESEARCH CENTER COLLECTIONS
Curated by Carlos Manuel Haro and Bryant Partida, with assistance from Johnny Ramirez and Oscar Castillo
UCLA Chicano Studies Research Center Library
144 Haines Hall
March 10 – May 11, 2018
In the library, vitrine, hallways, and conference room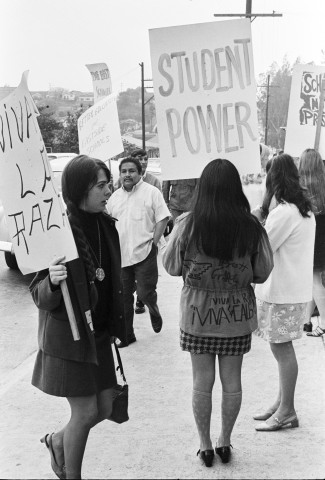 Historically, Chicana/o social movements have addressed an array of educational issues impacting communities across the United States. Key in the fight for educational equity were the Eastside student walkouts of 1968. In the early days of March, approximately 5,000 students from five LAUSD high schools—Roosevelt, Garfield, Wilson, Lincoln, and Belmont—took to the streets. They sought a just education for Chicana/os, demanding curricula, books, and materials that were culturally relevant and educators that were culturally informed, as well as administrative changes, more parental involvement, and facility improvements. The students also participated in a rally at Hazard Park, where educator Sal Castro, LAUSD Board of Education member Julian Nava, and U.S. Congressman Edward R. Roybal were among the speakers.
Articles published during this period in the Los Angeles Times and the Herald Examiner used a rhetoric that stigmatized the efforts of the students and their sympathizers. Headlines such as "Brown Power Unity Seen Behind School Disorders" and "East Side Still Plagued with Hangover from School Boycott" negatively framed the walkouts and their participants and supporters.
These dominant narratives were challenged by perspectives from community-based newspapers such as Chicano Student News and La Raza, which published calls to action and photographs and reportage of the walkouts. These grassroots publications, which focused on the experiences of students and community members, also shed light on police violence, revealed geography-based disparities among LAUSD facilities, and documented events involving Castro and the group of activists known as the East Los Angeles 13.
This exhibition of photographs, newspapers, and ephemera pertaining to the historic Eastside student walkouts of 1968 and additional actions in 1970 draws from six CSRC archival collections: Sal Castro Papers, La Raza Newspaper and Magazine Records, La Raza Photograph Collection, Chicano Newspaper Collection, Oscar Castillo Papers, and Oscar Castillo Photograph Collection. The exhibition is divided into four thematic components: the Roosevelt High School walkouts; the East Los Angeles 13; the sit-in at the LAUSD boardroom; and the struggle to reinstate Sal Castro as an LAUSD educator. An additional component, installed in the conference room, features photographs taken by Oscar Castillo. Although much of the documentation of Chicana/o activism against educational inequality focuses on events in 1968 and 1969, Castillo's images record protests by students and community members who continued the fight for Chicana/o educational justice into the 1970s.
This exhibition is curated by Carlos Manuel Haro and Bryant Partida, with assistance from Oscar Castillo and  Johnny Ramirez, and support from the Tamar Diana Wilson Fund and the Carlos M. Haro Scholarship Fund.
Image: Students and community supporters outside Roosevelt High School during the 1968 walkouts. Photo by Devra Weber. La Raza Photograph Collection, UCLA Chicano Studies Research Center.