Previous Library Exhibition
Raphael Montañez Ortiz: Shred Your Worries and Other Destructions 
May 30 – December 15, 2017
UCLA Chicano Studies Research Center Library
144 Haines Hall
In the library and vitrines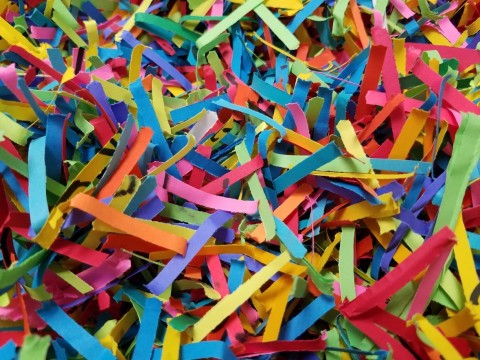 Raphael Montañez Ortiz highlights three works that the multimedia artist created for the LA Art Show in January 2017: Shred Your Worries, Couch Destruction: Angel Release (Pennies from Heaven), and Piano Destruction Ritual: Cowboy and Indian, Part Two. The exhibit also displays key documents from throughout the artist's career, from his "Destructivism Second Manifesto" for the Destruction in Art Symposium in London in 1966 to "digital experiments" conducted in the early 2000s. This exhibit highlights the Raphael Montañez Ortiz Papers at the CSRC Library, an extensive collection spanning eight decades that includes audiovisual materials, correspondence, ephemera, exhibit documentation, manuscripts, performance scripts, personal papers, photographs, printed materials, and academic publications. To view these materials please contact Xaviera Flores, CSRC Librarian, at xflores@chicano.ucla.edu.
Artist Biography
Raphael Montañez Ortiz (b. 1934) gained recognition in the 1960s as one of the leading figures of the Destructivist movement. Perhaps best known for his destructions of pianos and other objects, Ortiz employs his art to address issues of religion, indigenousness, ritual, transcendence, mortality, and duality. Ortiz is also recognized for his pioneering films and videos, which have been exhibited worldwide. His artworks are in the collections of major museums, such as the Museum of Contemporary Art in Los Angeles, the Museum of Modern Art and the Whitney Museum in New York, the Pompidou Centre in Paris, and the Menil Collection in Houston. Ortiz attended Art and Design High School in New York City and studied architecture at Pratt Institute. He received his doctorate in fine arts and fine arts in higher education from Columbia University's Teacher College, and he is currently distinguished professor in visual arts at Rutgers University. In 1969 Ortiz founded El Museo del Barrio, the first Latino art museum in the United States, and in June 2017 he was awarded the UCLA Medal for his achievements in art, education, and social justice.
Raphael Montañez Ortiz Artworks on Exhibit in Los Angeles
Ortiz's work is featured in the CSRC-organized exhibition Home: So Different, So Appealing, on display June 11–October 15 at the Los Angeles County Museum of Art. Home is part of the Getty's Pacific Standard Time: LA/LA initiative. Ortiz is also the subject of a solo exhibition on view June 9–July 15 at LAXART.