Previous Library Exhibition
Mexican Surf and Turf:
Mexicano Cultural Continuity in West Los Angeles Through Surfing and Soccer
Curated by Leonard Melchor, PhD
CSRC Visiting Scholar, 2015-16
February 26 - June 10, 2016
In the library and vitrine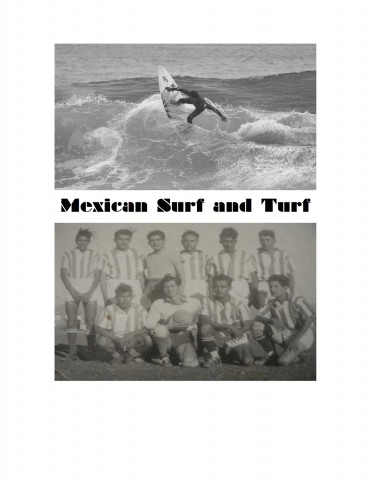 This exhibition considers the role of surfing and soccer activities in the Mexican community of West Los Angeles, and how these activities fostered a vibrant transnational culture in this community from the early 1950s to the present. For WWII-era Mexican immigrants from Juchitlán, Jalisco, and surrounding areas, soccer served as the bonding agent as these newcomers established roots in Santa Monica. Testimonial photos are presented of Antonio Melchor, Monico Sevilla, and Honorato Benitez, members of the three main soccer clubs: Club Deportivo Libertad, Club Deportivo Juchitlán, and Club Deportivo Progreso. The images evidence a unique history of the players, including guest farmworkers (Braceros) who became soccer team members as the community slowly built soccer clubs into a viable social network.
During the 1980s, a group of Mexican American youth living in Venice banded together to form the Mexican Skate and Surf Association (MSSA). MSSA provided a path to celebrating both ethnic heritage and community. Members gathered to enjoy carne asada and surf breaks at Venice beach. Among them was legendary surfboard designer Jaime Perez, who is the focus of this segment of the exhibition. An original surfboard by Perez is on display inside the CSRC library.
The video on the monitor is a combination of a performative talk given by the exhibition's curator for the UCLA Department of World Arts and Cultures/Dance and the short film Mexican Surfers of Venice, produced by the curator in 2009. The talk explores the dialectic between images of Mexicans circulating in the media and the personal internal images of being Mexican. The short film explores how Jaime Perez conceptualizes himself and his craft within the cultural context of being
Mexican American.