Previous Library Exhibition
Selections from the Grace Montañez Davis Papers, 1940-1990
October 13 - December 18, 2015
In the vitrine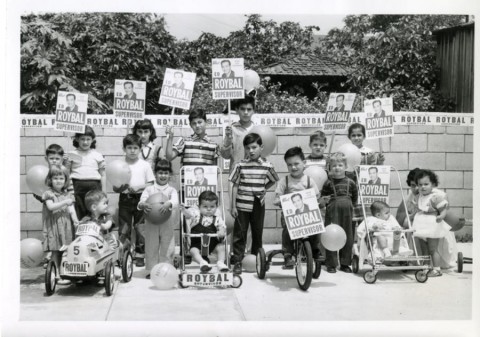 Grace Montañez Davis (far right, holding child) organized the neighborhood children for this photo supporting the Edward Roybal campaign for City Council, 1957.
Photo from the Edward R. Roybal Papers, UCLA Chicano Studies Research Center
Grace Montañez Davis is a political activist, UCLA graduate, and the first Mexican American woman to serve as deputy mayor of Los Angeles.
Born in 1926 in Los Angeles, Montañez Davis grew up in the community of Lincoln Heights. She attended UCLA where she received an MS in microbiology in 1949. She became politically active in the early 1950s when she became involved with the broad-based Community Service Organization (CSO). During this time, she taught citizenship and voter registration classes and was actively involved in Edward Roybal's campaigns for City Council and later, U.S. Congress.
Montañez Davis is one of the founding members with Roybal of the Mexican American Political Association (MAPA) and served on the Democratic Party Minority Committee of Los Angeles. In 1964 she became the administrative assistant to U.S. Congressman George E. Brown, Jr. In this position she helped institute the Los Angeles anti-poverty programs developed by President Lyndon B. Johnson. A year later she joined the Economic and Youth Opportunity Agency as a program development specialist.
In August 1975, Montañez Davis was appointed deputy mayor of Los Angeles. As deputy mayor she developed the city's Department of Aging, the Department of Justice, an Office of Volunteers, and an Office for Youth. Montañez Davis was also extensively involved in community relations, representing the mayor at city and international functions and political and community events, particularly those within the Latino community. She was also a founding member of the Los Angeles-based Comisión Femenil Mexicana. She served on the board of directors of the Mexican American Legal Defense and Educational Fund (MALDEF) and was a member of the Federal Advisory Committee on Immigration and Naturalization. She has received numerous recognitions and awards for her community service. In 2015 she received an Aztec Award from the Mexican American Opportunity Foundation (MAOF) for her lifelong dedication to community service.
Montañez Davis is recognized as an authority on employment, a champion of women's rights, and a diligent worker for the rights of children—especially the underprivileged. The documents in this exhibition highlight the involvements and achievements of Grace Montañez Davis.
To view a finding aid for this collection, visit the Online Archive of California http://www.oac.cdlib.org