Previous Library Exhibition
Untamed: Cultivating Collaboration in Arts, Activism, and Scholarship
May 15 – June 12, 2015
In the library and vitrine
Opening reception: May 15, 5:30-8:30 p.m.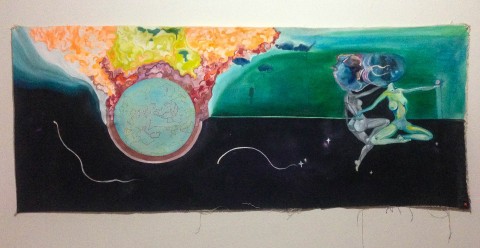 Mars Si,  Karen Loves Kate, 2014.  Acrylic and watercolor on canvas.
This pop-up gallery installation features works by contributors to the first edition of bozalta, an online journal of arts, activism, and scholarship. Angélica Becerra, Pola López, Mars Si, and Christopher Anthony Velasco each contributed to the show. Having emerged out of UCLA's César E. Chávez Department of Chicana/o Studies doctoral program, bozalta is rooted in Chicana feminist thought. While bozalta directly engages with the UCLA community of students and faculty, it also works to cultivate conversations from within, beyond, and between the traditionally disjointed spheres of academia, arts, and activism. bozalta participates in this exchange by featuring critically-engaged, collaborative, and community-focused works on an online, open-access, interactive-archive platform. Through a commitment to open-accessibility and interactivity, bozalta's current and target audience includes local and transnational community organizers, creative and intellectual workers and institutionally affiliated and independent scholars.
The primary purpose of the opening event, "Untamed: Cultivating Collaboration in Arts, Activism, and Scholarship," is to celebrate the launch of the journal and further form a bozalta community. The event will facilitate in-person conversations among collective members, contributors, and UCLA readership. The Untamed pop-up gallery exhibition enables the community to continue experiencing encounter works from the online journal.