Previous Library Exhibition
You Found Me: Photographs by Christopher Anthony Velasco
January 3 – March 21, 2014
In the library and vitrine
Opening reception: Thursday, January 23, 4:00-6:00 p.m.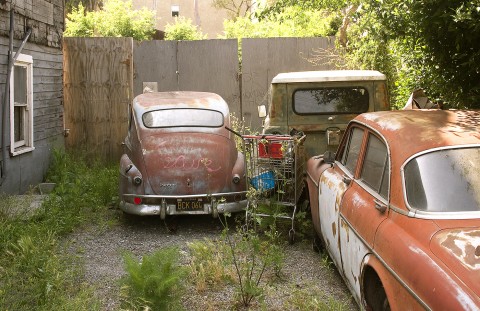 Rusted Dreams, 2011
The UCLA Chicano Studies Research Center is pleased to present You Found Me: Photographs by Christopher Anthony Velasco.  As the artist describes, "You Found Me is an ongoing photographic exploration of the effects of generalized anxiety disorder (GAD). Using photographs of randomly found shopping carts, I describe feelings of depression, displacement, and abandonment that are triggered by the condition. As the title expresses, I am, for the first time, being open and honest about my longtime struggle with GAD. I am allowing you to see me."
You Found Me is a two-part exhibition. The first part, shown in the library, consists of six color digital inkjet prints and six color digital chromogenic prints from Velasco's shopping cart series, which he began in 2006. As the series gained recognition, people began sending the artist photographs of abandoned shopping carts that they see. The second part of this exhibition, installed in the vitrine, consists of thirty color digital chromogenic prints of these cell-phone captures.
Christopher Anthony Velasco is a mixed-media artist working in Los Angeles. His photography and collage pieces explore the urban landscape, public and private space, and questions of identity. His website is http://christopheravelasco.wix.com/cav-photography.