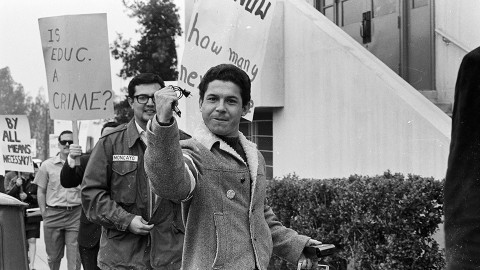 Photograph by La Raza Photographic Staff. East L.A. High School Walkouts.
1968. La Raza Newspaper & Magazine Records. Coll. 1000. Courtesy of the CSRC.
Published in Los Angeles from 1967-1977, the influential bilingual newspaper La Raza provided a voice to the Chicano rights movement. La Raza engaged photographers not only as journalists but also as artists and activists to capture the definitive moments, key players, and signs and symbols of Chicano activism. The archive of nearly 25,000 images created by these photographers, now housed at the Chicano Studies Research Center at UCLA, provides the foundation for an exhibition exploring photography's role in articulating the social and political concerns of the Chicano Movement during a pivotal time in the art and history of the United States. La Raza is the most sustained examination to date of both the photography and the alternative press of the Chicano Movement, positioning photography not only as an artistic medium but also as a powerful tool of social activism.
La Raza is on view September 16, 2017 - February 10, 2019 at the Autry Museum of the American West. An accompanying catalog has been published by the UCLA Chicano Studies Research Center Press.
La Raza is part of Pacific Standard Time: LA/LA, a far-reaching and ambitious exploration of Latin American and Latino art in dialogue with Los Angeles led by the Getty. Through a series of thematically linked, groundbreaking exhibitions, Pacific Standard Time LA/LA exhibitions and programs will highlight different aspects of Latin American and Latino art from the ancient world to the present day. Pacific Standard Time: LA/LA will also go beyond the visual arts to touch on film, performing arts and literature. This will be the first time that Latino and Latin American art may be viewed in relation to one another on such a large scale. For more information, visit pacificstandardtime.org.