Previous Library Exhibition
Chican@s Collect: The Durón Family Collection
Curated by Amando Durón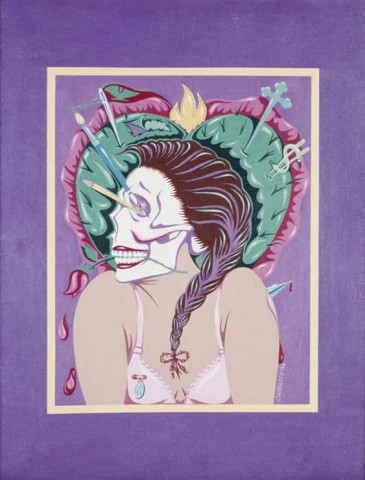 September 22, 2011 – December 9, 2011
In the library and vitrine
Opening reception:
Tuesday, October 18, 2012
4:00 p.m.–6:00 p.m.
Mary and Armando Durón have been collecting Chicana and Chicano — Chican@ — art by Los Angeles artists for almost thirty years. Their collection, which numbers nearly five hundred artworks, contains paintings, drawings, serigraphs, photographs, sculptures, and ceramics.
Because the Duróns believe that these works cannot be fully understood without considering the context in which they were created, the collection also includes an extensive library of materials that provide historical and cultural documentation. In this way, the Durón Family Collection offers a unique perspective on Chican@ art and culture.
Barbara Carrasco, Motivating Factors, 1986
Chican@s Collect represents both aspects of the Durón Family Collection. Armando inverted usual curatorial practice by selecting objects from the library and then choosing works of art that have a connection to them.
Chican@s Collect 
was one of five L.A. Xicano exhibitions developed by the CSRC for the Getty Foundation's 
Pacific Standard Time
 initiative.