Previous Library Exhibition
Sal Castro: Legacy of a Teacher
October 15 – December 13, 2013
In the library and vitrine
Opening reception: Tuesday, October 15, 4:00-7:00 p.m.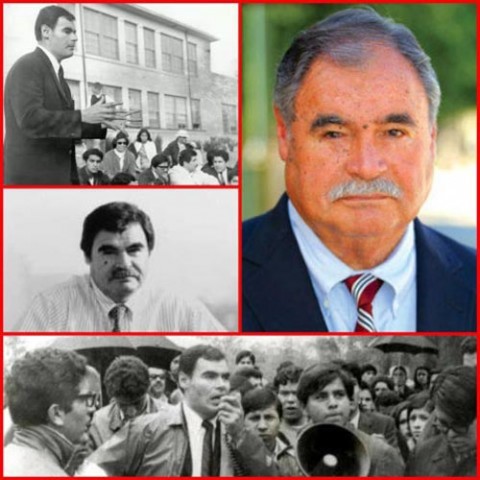 The UCLA Chicano Studies Research Center (CSRC) is pleased to present Sal Castro: Legacy of a Teacher, an exhibition of items from the Sal Castro Collection at the CSRC. Photos, awards, memorabilia, and ephemera from throughout Castro's life and career are on display. Videos, including Susan Racho's Taking Back the Schools (1996), provide dramatic context. Racho's documentary, which she produced for PBS, looks at the 1968 "Blowouts," when students at East L.A. high schools walked out of class and rallied to protest conditions for Mexican Americans in area schools. (Racho herself participated in the series of demonstrations as a UCLA undergraduate.) Castro, then a social studies teacher at Lincoln High School, helped organize the students, inspiring them to demand an equitable education.
Sal Castro, who died in April 2013, devoted his life to equity and opportunity for Chicano students. Although the education and Chicano communities lost an influential leader, Castro's legacy is seen in the thousands of lives he influenced during his four decades as a teacher and counselor in the Eastside schools of Los Angeles. His impact was also felt in the Chicano Youth Leadership Conference, which was founded in the 1960s to provide high school students with a transformational weekend experience focused on developing college-oriented thinking and planning and a spirit of community service.
The CSRC would like to thank Charlotte Lerchenmuller and the Castro family for the Sal Castro Collection at the UCLA Chicano Studies Research Center.