Rotating exhibitions drawn from CSRC collections are on display inside the library and in the vitrine near the front entrance. All exhibitions are free to the public and viewable during regular library hours, Monday-Friday, 10 a.m.-5 p.m.
Casos de Justicia: The Los Angeles Street Vendor Movement  
Curated by LeighAnna Hidalgo
February 8 – 23, 2018
UCLA Chicano Studies Research Center Library
144 Haines Hall
In the library and vitrines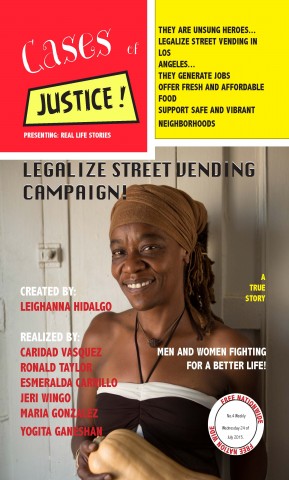 Casos de Justicia: The Los Angeles Street Vendor Movement is a CSRC Library exhibition curated by LeighAnna Hidalgo, new media ethnographer and PhD candidate in Chicana/o studies at UCLA. The exhibition focuses on black and Latino vendors-turned-activists in the Los Angeles street vendor movement. It features augmented fotonovelas that are based on a four-year visual ethnographic project Hidalgo conducted in partnership with the East Los Angeles Community Corporation (ELACC). The exhibition is supported by research grants from the Institute of American Cultures and the Tamar Diana Wilson Fund.
Curator and artist Hidalgo was born in Southern California and spent her childhood in Guatemala. She is the daughter of a Salvadoran refugee and white American mother. At age 11, violence stemming from civil war forced her family to relocate to the U.S. Once in the U.S., her immigrant father faced discrimination and labor exploitation that forced him into self-employment. As a teenager, Hidalgo accompanied her father while he cleaned offices, delivered newspapers, and sold CDs. As a family facing economic insecurity, they migrated to Washington, Arizona, and finally Texas. Despite facing anti-immigrant hostility in the U.S., Hidalgo's father never lost hope. In 2006, his dream for an equitable society shaped LeighAnna's consciousness when her family joined the ongoing immigrants' rights movement in Phoenix, Arizona, alongside thousands of immigrant laborers. The resilience of her father and that community fuels her research, teaching, and organizing.
Previous CSRC Library Exhibitions